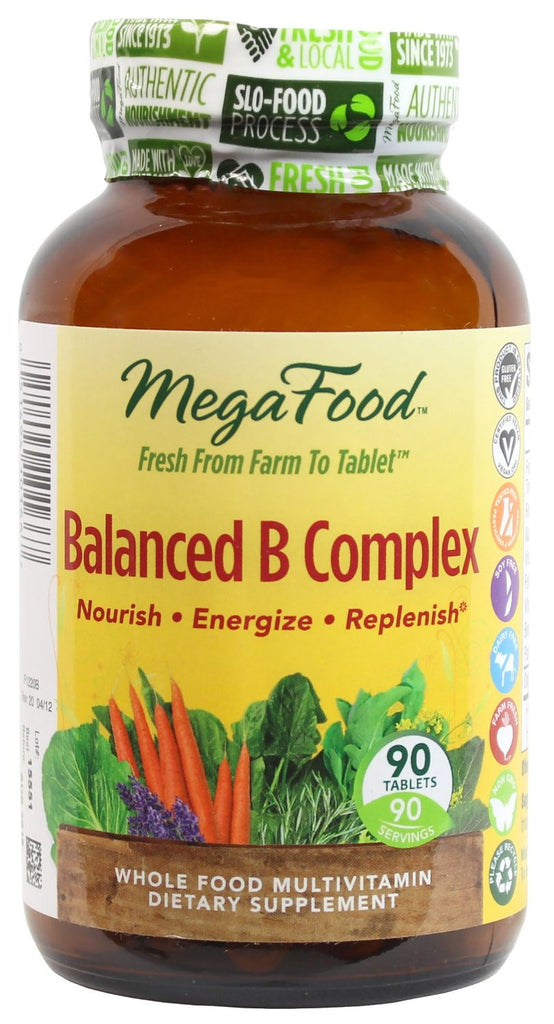 MegaFoods Balanced B Complex
---

Supplement Facts

Serving Size 1 Tablet
Amount Per Serving % Daily Value
Thiamine (B1) (36 mg S. cerevisiae) 9 mg 600%
Riboflavin (B2) (90 mg S. cerevisiae) 9 mg 529%
Niacinamide (180 mg S. cerevisiae) 45 mg 225%
Vitamin B6 (50 mg S. cerevisiae) 10 mg 500%
Folate (40 mg broccoli) 400 mcg 100%
Vitamin B12 (25 mg S. cerevisiae) 125 mcg 2083%
Biotin (60 mg organic brown rice) 300 mcg 100%
Pantothenic Acid (180 mg S. cerevisiae) 45 mg 450%
Organic Spinach 125 mg *
*Daily Value not established.
Other Ingredients: Plant cellulose, vegetable lubricant.

Suggested Use: 1 tablet daily. May be taken anytime throughout the day, even on an empty stomach.

FoodState® concentrate, made from fresh, raw foods, deliver 100% whole food nutrients and protective antioxidants--As Nature Intended. They are a natural source of vital phyto-nutrients, including CoQ10, SOD, glutathione, enzymes, lipoic acid, amino acids and beta glucans.

Tested to be free of: gluten, dairy, soy, pesticides and herbicides. Does not contain corn or wheat.
---
Share this Product
---
More from this collection