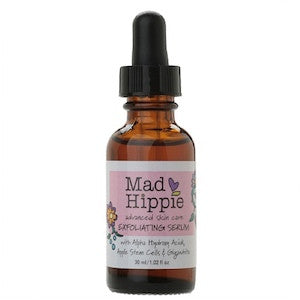 Mad Hippie Exfoliating Serum 30ml.
---
Mother Nature & modern science unite to reduce skin discoloration & wrinkles in our alpha hydroxy acid based serum
* We recommend using either the Exfoliating Serum or the Vitamin A Serum as your exfoliant
.
Ingredient Highlights:
Glycolic Acid - Derived from sugar cane and regarded as the most effective of the alpha hydroxy acid family due to its smaller molecular size, glycolic acid is amazing at exfoliating, reducing wrinkles, discoloration & age spots.
Lactic Acid – Derived from fermented beet sugar & another member of the alpha hydroxy acid family, lactic acid exfoliates, reducing wrinkles & discoloration while hydrating & moisturizing.
Apple Stem Cells (PhytoCellTec®) –  The stem cell of the rare Swiss apple has been shown to protect the skin from damage and age related deterioration.  Reduce wrinkle depth & visibility while protecting the longevity of skin stem cells.
Gigawhite – A blend of 6 organically grown alpine plants that inhibit the production of melanin.  Melanin accumulation under the skin is responsible for discoloration resulting from UV damage.
Matrixyl Synthe '6 – The newest member to the Matrixyl family of peptides, Matrixyl Synthe '6 stimulates the synthesis of 6 major constituents of the skin matrix and dermal-epidermal junction (collagen I, III, IV, fibronectin, hyaluronic acid and laminin 5).
Sodium Hyaluronate – The salt of hyaluronic acid (HA), sodium hyaluronate has much better skin penetrability than HA alone.  Sodium hyaluronate works to plump up the skin, giving you back that youthful, full look.
White Tea – Strong antioxidant with natural anti-carcinogenic qualities that works to eliminate free radicals, boost immunity of skin cells and prevent UV damage.
Goji Berry –  Super-antioxidant berry rich in amino acids, mineralsand vitamins C, E, B1, B2 & B6.  An amazing source of beta carotene (vitamin A), with anti-inflammatory & anti-aging benefits.
Vitamin C – Proven to enhance collagen production, reduce the appearance of wrinkles, and tighten the skin, this powerful antioxidant is effective at healing sun damage & discoloration, while inhibiting future damage caused by UV exposure.
Ceramide - supports the renewal of the skin's natural protective layer by forming a thin lipid barrier that holds in moisture, while protecting & healing the skin.
Vitamin E - Contains powerful anti aging & anti carcinogenic properties.  Reduces fine lines & wrinkles while it heals and protects skin from UV & free radical damage.
---
Share this Product
---
More from this collection