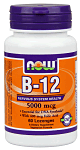 Now Vitamin B-12 5000mcg - 60 Lozenges
---
NERVOUS SYSTEM HEALTH
Essential for DNA Synthesis*
With 400 mcg Folic Acid
Vegetarian Formula
Vitamin B-12 (Cyanocobalamin) is a water soluble vitamin necessary for the maintenance of a healthy nervous system and for the metabolic utilization of fats and proteins.  Vitamin B-12 is also essential for the synthesis of DNA during cell division and therefore is especially important for rapidly multiplying cells, such as blood cells.  In addition, adequate intake of Vitamin B-12, along with Folic Acid and Vitamin B-6, supports healthy serum homocysteine levels already within the normal range, thereby supporting cardiovascular health.  Because Vitamin B-12 is found predominantly in animal products, strict vegetarians are at resk of developing Vitamin B-12 deficiency and may benefit from supplementation.*
From the FDA's website: "As part of a well-balanced diet that is low in saturated fat and cholesterol, Vitamin B12 may reduce the risk of vascular disease. FDA evaluated the above claim and found that, while it is known that diets low in saturated fat and cholesterol reduce the risk of heart disease and other vascular diseases, the evidence in support of the above claim is inconclusive."
---
Suggested Usage
As a dietary supplement, take one lozenge daily.  Chew lozenge or hold in mouth until dissolved.
Serving Size:
1 Lozenge
Servings Per Container:
60
Amount Per Serving

% Daily Value*

* Percent Daily Values are based on 2,000 calorie diet.
† Daily Value not established.
Folic Acid  
400 mcg  
100%  
Vitamin B-12 (as Cyanocobalamin)  
5.0 mg (5,000 mcg)  
333%  
Other Ingredients: Fructose, Sorbitol, Cellulose, Stearic Acid (vegetable source), Citric Acid, Natural Flavors, Silica and Soy Lecithin.
Contains no:  salt, starch, yeast, wheat, gluten, milk, egg, shellfish or preservatives. Vegetarian/Vegan Product.
Caution:  Do Not Eat Freshness Packet.  Keep in Bottle.
The B-12 content is derived by natural fermentation.
---
Share this Product
---
More from this collection