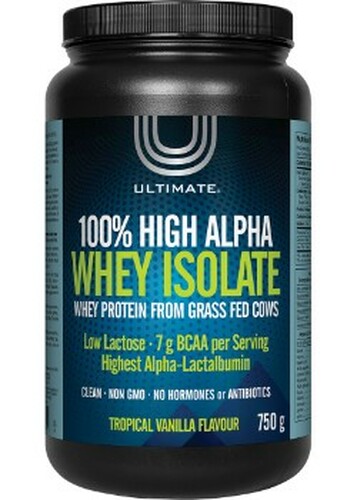 Ultimate 100% High Alpha Whey Isolate Protein
---
The Ultimate High-Alpha Whey Protein is a one-of-a- kind high performance functional protein that contains the Natural Health industry's highest levels of the bioactive peptide Alpha-lactalbumin – nature's most perfect form of protein.
The exceptionally high levels of bioactive proteins, peptides and amino acids are obtained through an exclusive low-heat, cross flow micro-filtration method that filters out all impurities and guarantees a completely bioavailable, high performance functional protein coming from 100% whey isolate (no inexpensive, less bioavailable concentrate).
Benefits:
Excellent Source of Protein
Free of Artificial Sweeteners
Free of BSE Hormones
Directions: Mix 2 scoops/1 serving (28 g) with 250 mL of water or juice in a shaker cup or a blender. Due to the exceptional purity and lack of emulsifiers in Ultimate High Alpha Whey Protein, it is best to blend on low speed or use a shaker cup.
---
Share this Product
---
More from this collection